As you may have already read in the post below, I went to the zoo yesterday morning when it opened, hoping to stay long enough to make a couple of rounds and catch the animals in action. Three important conclusions were reached:
1) No, you aren't crazy; zoo animals really do act lazy, sleepy and/or disinterested ALL DAY.
2) The most active animals are, bar none, the zebras and, of course, the penguins.
3) The grizzly bear apparently had a psychotic break; it walked in a tight circle for three straight hours without pause. Something for the zookeepers to consider.
Anyway, for the aspiring professional, zoo pictures can be as frustrating as rain pictures. First you have to deal with fences, cages, mesh, glass, and sheer distance. Then, you really do need a telephoto lens to capture those intimate portraits of the orang utan or the Kenyan bongo that will make people want to buy the picture or give it some online award. Lastly, it requires commitment and fortitude. I was there for four hours, longer than I think I've ever spent at a zoo, and it would have required another five or six hours just to wait for the camels to finally move, or for the lions to even think about roaring.
So why do we do it? Well, frankly, because we can't afford a safari.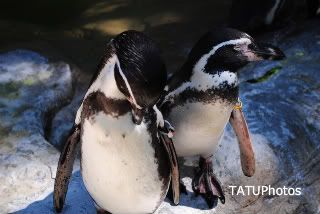 There is the most amazing new edition at the zoo (within the last several years) called Penguin Cove, and once you're done awwing over the outside kiddos, you get to go inside into blessed, blessed cold air and watch the rest of them swim around and yell at each other.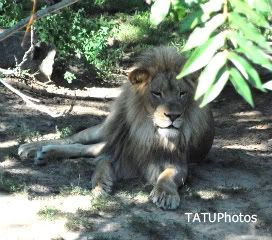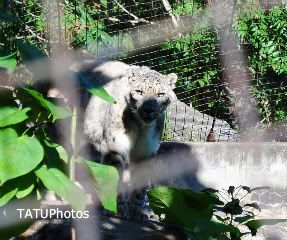 The power of cropping. That lion was so far away. And I love the stare-down I was getting from the snow leopard and it's much easier to see after a little snip, snip. The only issue (which will be discussed in further detail in a future post) is that when you post-edit, you lose information in the picture file, something that must be considered if you actually want to
do
anything with it.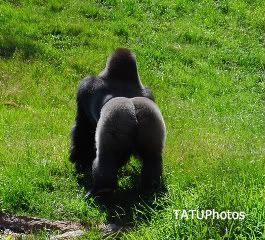 And they talk about J. Lo.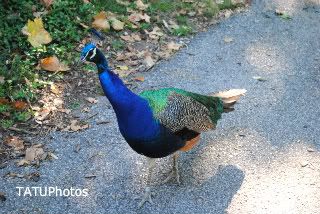 The peacock and I didn't get along. He kept following me, for one thing. He popped up near the giraffes, then he showed up at the bird house, and then again by the monkeys. It's nice that they let him walk around on his own, but he knew what I wanted. I wanted those feathers in the air. And he wasn't going to let that happen. Look at him: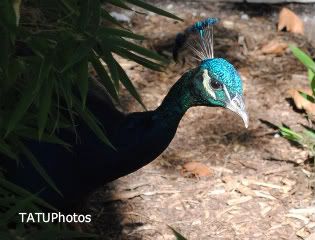 Mocking me. I bet when I finally gave up he went into some corner and spread his feathers just for kicks.
Another thing that is important to remember at the zoo is the sports setting on your camera. With the more active animals it's the only way to catch them in action, and with the bright light normally available by the sun (since I assume you wouldn't want to go on a cold rainy day) the shutter speed is no issue. A couple of times, however, I did not have the sports setting selected and it resulted in some really cool effects, with Mr. Peacock and with a penguin who just wasn't feeling the whole camera thing: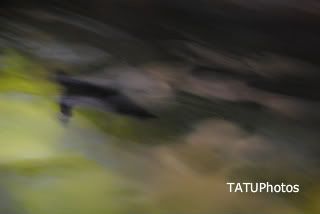 Since Fuji has said goodnight, I have resolved not to return to the zoo without a telephoto lens, and of course that will require money and that will require time. But it will be worth the wait.