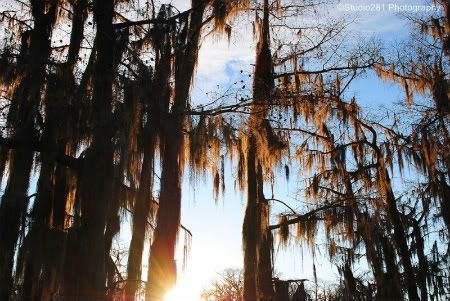 Well, I'm back home from east Texas.
I went for my job - but it didn't really feel like work. It was kind of an impromptu trip; the boss and I left on the train Thursday night and I just got home about three hours ago. You may recall that I went to Texas last March, and visited Caddo Lake State Park at Big Cypress Bayou. I was only able to stand at the water's edge that time; a steamboat tour is available in the spring, summer and fall, but I just couldn't get myself up early enough to go. I wasn't going to let that happen this time!
Of course the steamboat tour wasn't available now, as it's winter, so I found another tour run by a Caddo Lake native named John Winn. He gives several different kinds of tours, including a photography tour, so I booked one for myself for Saturday morning. There are lots of photos to show, but you'll have to endure my narrative too (as always). =)
I scheduled the tour for 7 a.m., since that was the earliest I could trust myself waking up for, and because there's that time of the morning right when the sun rises over the trees that the light is the most magical. John uses a Go Devil boat, which is shaped kind of like a canoe and powered by a motor, allowing us to wend through the thickets of cypress trees in a way regular boats (including that steamboat) can't.
Before the sun appeared, and because it's winter, everything was pretty monochromatic at first. No green leaves or blooms. John, being a photographer himself, mentioned that it's a good opportunity to use black-and-white photography, and I agreed. So this first set you'll see are my b&w conversions (and one experiment with a film filter), which definitely bettered the early photos.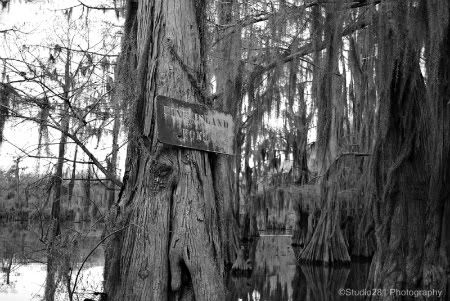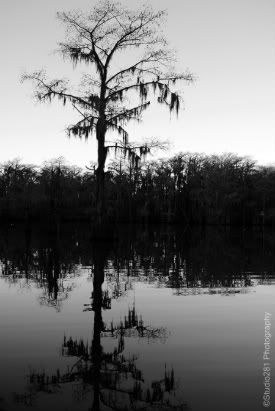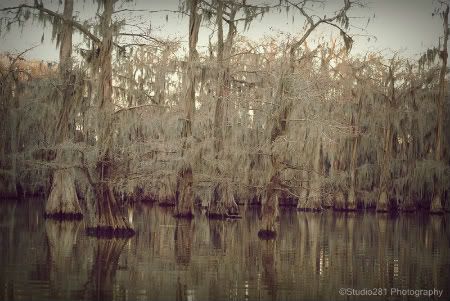 If you're unfamiliar with bayous, they're filled with cypress trees that grow out of the water; John said there was one cypress that they'd calculated to be five hundred years old, with a thirty-foot wide base.
The stringy, curly stuff hanging from the branches is called Spanish moss. These trees lend very, very well to the often spooky atmosphere of the bayou (typically attributed to Louisiana; Caddo Lake actually crosses the border into Louisiana), and John offers a night tour for spotting gators and other wildlife, the air filled with the bellowing of frogs. I soooo want to do that.
Because of the way cameras expose for direct sunlight, I was able to get some shots that darkened the trees and water and gave a more evening time, 'spooky' feel.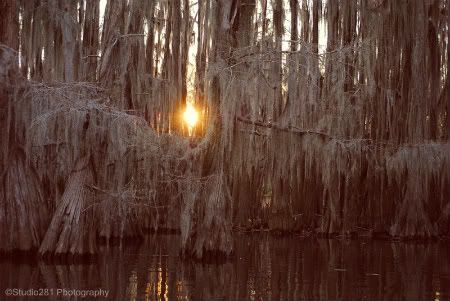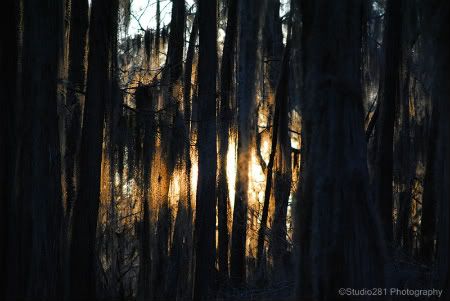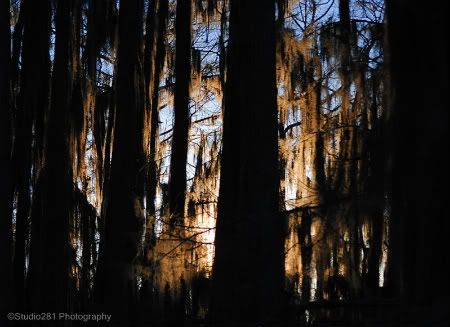 As the sun continued to rise, rays shone on the trees and water, and the experience really began. You'll notice a variety of color tones; a lot of that has to do with how I composed the position of the sun in the photos. I also experimented a bit with color balance in post-processing, because in wintertime the bayou is almost like a blank slate; you can project many different qualities onto the grayish-brown trees and moss.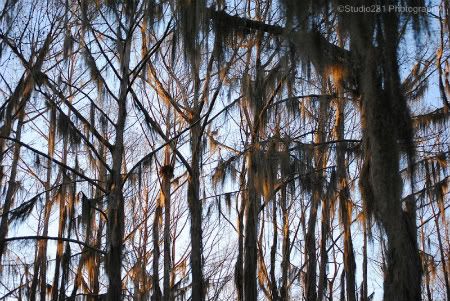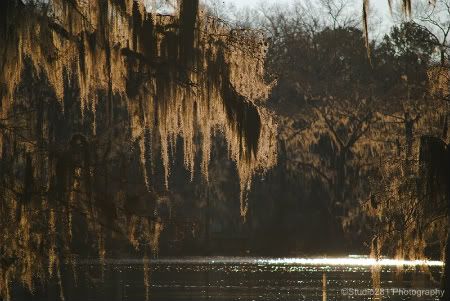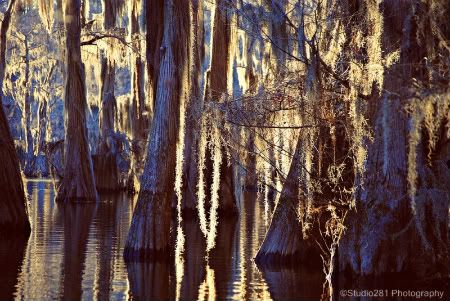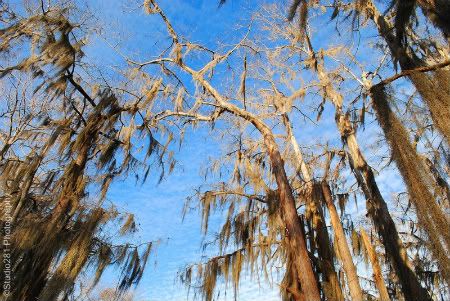 I tinkered with white balance a bit too; in the following photo I used 'warm,' and while it was generally too much, I did like how this came out: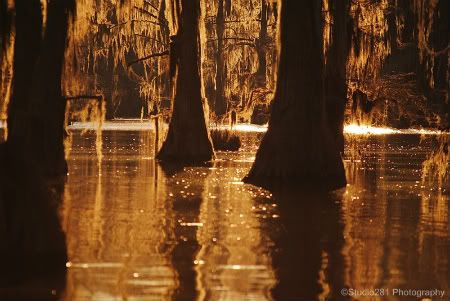 And I tried b&w on a brighter shot of a long stand of trees, and actually really like the result: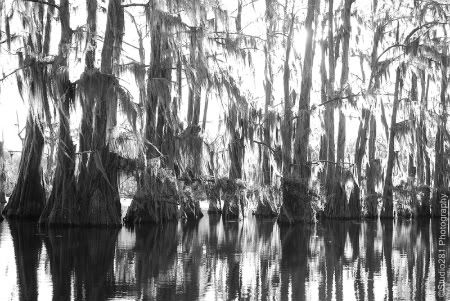 All in all, a great way to spend two hours (and eighty bucks...thanks Dad!). I absolutely plan on going back in late spring or summer to take advantage of the greenery and blooms at sunset, and I hope I can drag Sara with me... ;-)