I was supposed to go to the Old Courthouse yesterday and photograph the rotunda and murals, but with there being a big baseball game against our rivals, as well as an ongoing heat wave, my mom and I decided to eschew downtown and head instead to the heart of the city, to the Cathedral Basilica on Lindell Ave. I never even knew this place existed.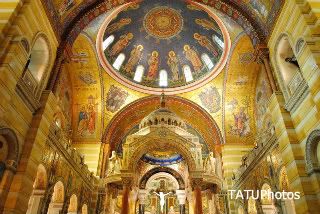 The Cathedral was completed in 1988 but work is expected to be ongoing, the result of careful additions by future generations. It is decorated completely in mosaic tiles, and though I don't know for sure, something tells me this is the only cathedral of its kind. It was so beautiful, serene, and quiet inside, I'm really grateful they obliged those of us with cameras (and me and my new tripod).
From the All Saints Chapel: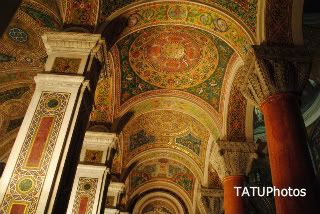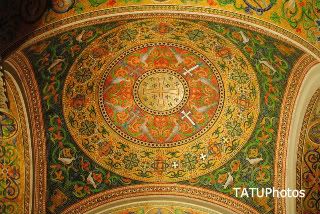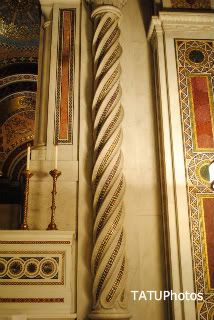 Arches and the rose window from the main chapel: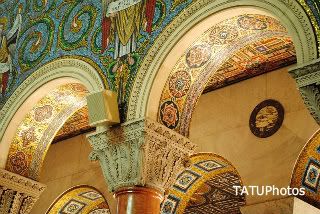 The Blessed Sacrament Chapel:
Arch and ceiling near the chapel above:
Ground for the cathedral was broken in 1907. Its design is a synthesis of the Byzantine and Romanesque styles; two of the chapels were designed by Tiffany Studio of New York. Pope John Paul II designated the cathedral a Basilica in 1997. If you'd like to learn more or see official pictures, click
here
.
I'm going to go back on Monday; I only had about forty-five minutes to snap, snap, snap away yesterday, and there is so much to see and take in. It's crazy how I had no idea this place even existed until about twenty-four hours ago.
I also have photos of the exterior and grounds; that will be a "part two" post coming soon!