There's been a big trend in photography the last several years in having photos look older than they really are. Whether it be added grain, tint, going for the Polaroid look, or just using black-and-white or sepia, it's hard to get away from "old" photos in the hipster circles.
About a year ago I did download a program called Poladroid that turns any picture into a Polaroid, with minimum to maximum aging effects. (You can even "shake" the photo with your mouse to help it develop faster - very cute)
As a demonstration, I've taken a photo from my collection of what is already an old subject - bottles on an apothecary's shelf in the preserved town of Old Salem, in North Carolina. Here's the original shot:
(Fuji, f/2.8, 1/75 sec., ISO-200)
Here's how it looks when processed in Poladroid: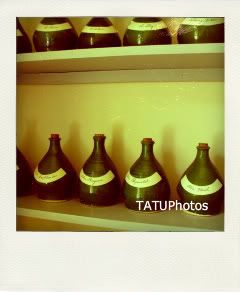 And when I crop out the white edging, we have here a nice, muted, aged picture: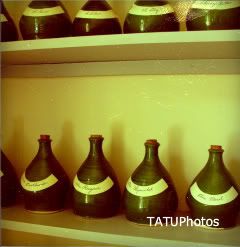 Look closely and you'll also notice scratches, and a fingerprint. I could actually do without the fingerprint, I am super, super, super careful not to get any on my photos. Which is why I love matte. :-)
I know there are plenty of image editors out there, but I don't have much extra money so I've never been able to purchase the ones that come with price tags. I use the editor in Photobucket, and I have Photoscape because it's free and you can chop up/combine photos. But I'm wondering what the hipsters use. I wonder what their method is, because sometime their photos just look too awesomely old for, well, words.
Maybe I should add a little grain?