I thought about showing all of my favorite photos from the year, then realized it would either be an annoyingly long list or I'd be anxious leaving out certain shots in the interests of brevity. So, just showing the one. :)
I am so glad to have had the experiences I've had this year, and that I was able to get a new and much-improved camera in the nick of time. North Carolina was an Eden of opportunity, and during my unfortunate out-of-work stint, I found a lot of wonderful places in my hometown, and learned to look harder (and work harder) for the capture.
This photo continues to stand out amongst them all: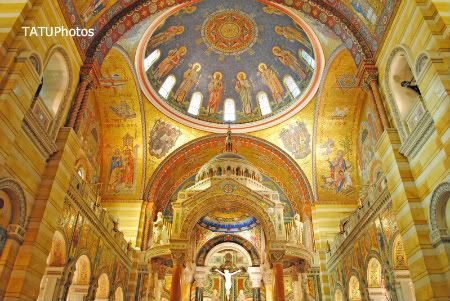 (Nikon D3000, f/3.5, ISO-800, 1/2 sec.)
I never cease to be amazed at how symmetrical the photograph is - when I wasn't even trying. In addition, the feet of Jesus on the cross are ridiculously close to the edge of the picture - I have no idea how this happened. Hmm. Maybe it was a miracle. ;-)
Going back to work has meant much less time for photography. I can hardly put into words the sorrow I feel every time I see an opportunity, and have to let it go. There is so much beauty around us and yet the world demands that we keep moving, keep going faster, don't deviate from the routine. It is a sorrow on my heart, and no less.
The sunsets are much improved (though I only see them through the glass of the office front door); yet they have also prompted me to notice how much of the city skyline, even into the suburbs, obstructs an open, wide-angle view of the sky. There's always a cluster of trees, or a building, or a store, or houses - always something, sprung up to aide the progress of civilization. It's hard to have it both ways, I see.
Maybe one day I'll live in a place like those you see in winning photographs, where there's always a quaint ship in the harbor, always horses trotting in the pasture, always a farmhouse or one-room church nestled in the snow. Maybe one day I'll have time.
Happy New Year. :)