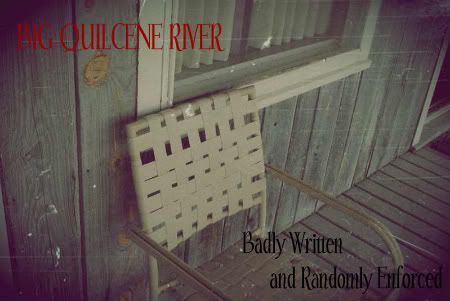 Fun challenge for you!
I created the above "album cover" following a pretty simple step-by-step method. My friends have done it and every last one of their results is amazing and so fun. So here is what you do:
1. Go to
Wikipedia
and click the link "Random Article." The title of the first article that comes up is the name of your "band."
2. Go to
Quotationspage.com
and click the link "Random Quotes." The last four or five words of the last quote on the page is the name of your band's "album."
3. Go to
Flickr
and click on the link near the bottom of the page that says "last 7 days." You'll have to look for the same link again on the new page that opens. The third photo - no matter what it is! - is your album art.
Note: because I am leary of posting photos that belong to someone else without their permission - because I would hate for someone to do that to me! - I chose a photo from my own personal stash for the example above.
4. Use Photoshop, Photobucket, Picnik, whatever image editor you like, to put it all together.
And there you go! Have fun! I'm off to score tickets for Big Quilcene River's upcoming tour... ;-)