Let's be real. It's all about the pictures. So let's get started.
When you're driving into Yosemite Valley (if you don't have time to go off the beaten trail before you reach the Valley because you only have one day to soak everything in), it takes about an hour. It would take about half an hour less - if you didn't have to screech to a halt every mile or so and snap, snap, snap away at the beauties of the earth everywhere.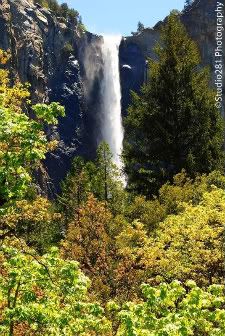 And as you go, eventually Yosemite Falls dominates the scene, and there are so many vistas to choose from; pulling over is encouraged and those of us new to it all certainly did so.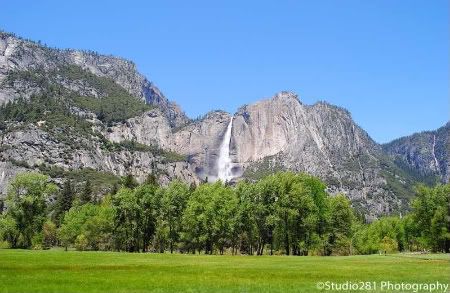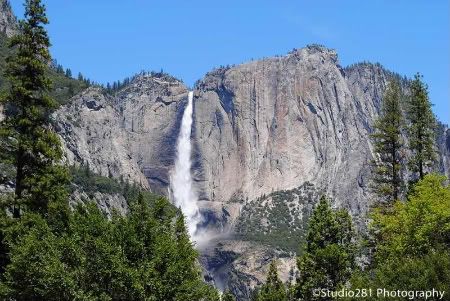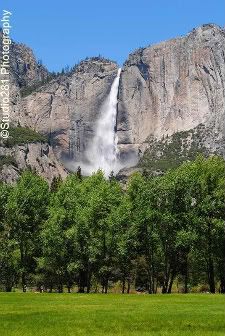 I eventually made it to Curry Village where I was staying the night in a tent cabin; I checked in, packed what I needed for hiking, and headed over to the shuttle stop. I honestly had no idea where I would go first, but fortuitously, the Mirror Lake trailhead was just a couple of miles down the road. So I got off there and got to hoofing it (2.4 miles roundtrip).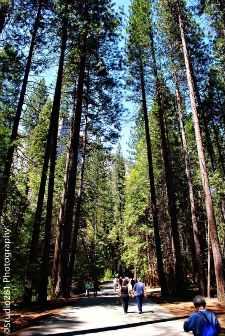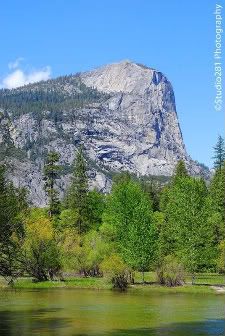 Half Dome and El Capitan, respectively, are visible along the trail, and it's very nice that a ten-mile upward climb into bear-infested woods isn't required to get the view. :-)
I took the shuttle to Yosemite Falls next. Because of a particularly precipitant winter and spring, everyone has been buzzing about how the waterfalls would just be gushing forth, and this was the perfect time of year to see them. (Some do eventually dry up later in the year) I was pleasantly surprised by a very short hike to the perfect vista of the falls.
You can walk all the way to the base of the lower falls, which I did; to get a close-up visit to the upper falls requires, of course, a long, more strenuous hike.
I decided that, in order to not get caught out in the middle of nowhere and miss the last shuttle, I would go back to Mirror Lake and capture the warmer light of sunset. It was a cloudless day which was a teensy bit disappointing, but I really couldn't complain.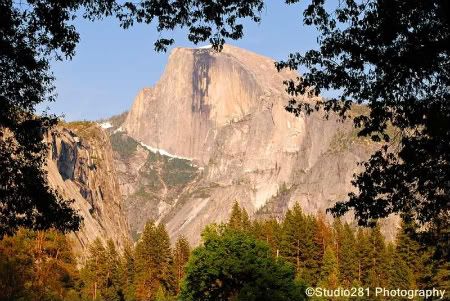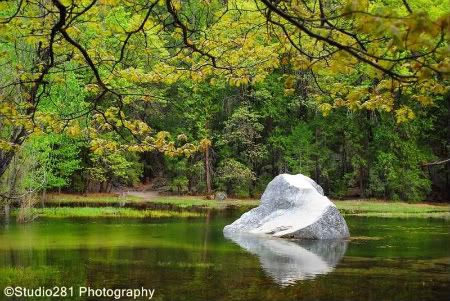 The photo just above is the result of my first experiment with photomerging. Which is basically the poor man's HDR. More to come on that, later!
The next morning I made a few last photo stops, in the Valley and then closer to the edge of the park, at Cascade Creek.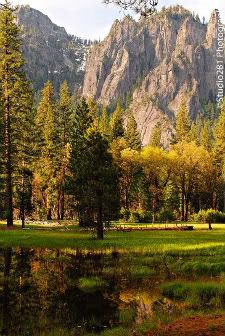 So, all in all, the chance of a lifetime, and I wish I could share all of the photos that I came away liking but this post would be far, far too long. So, I hope you enjoyed it as is!