Don't hate me, but I've been here for almost a week. Just now posting. Okay, go ahead. Throw those tomatoes.
If there's one thing I can say about myself as a person, it's that I'm pretty fearless when it comes to going it alone during travel. The day after I arrived in Berkeley, I took a short day trip to Mill Valley, CA to visit the giant redwoods in the John Muir Woods, a national monument. (Think of it as a state park, Teddy Roosevelt style) It also helps to have a good GPS system, too, so you spend less time craning your neck and saying, "Oh,
that
was Algonquin Way."
As you probably know, giant redwoods are the largest living things, so much that I honestly think their name should be capitalized. They are the trees that three our four people linked togehter (or more) couldn't hug, and they create an amazing canopy of leaves that fosters the growth of shade-loving plants along the forest floor such as redwood sorrel, moss, and sword ferns. Redwood Creek runs through the woods, almost bisecting it, and when I was there Sunday the water was a nice medium between a gush and a trickle.
Okay, enough about all that. The photos.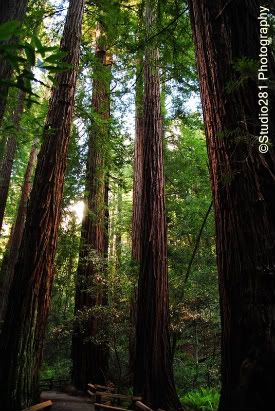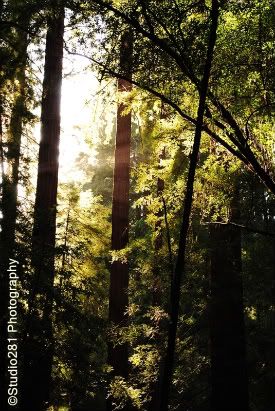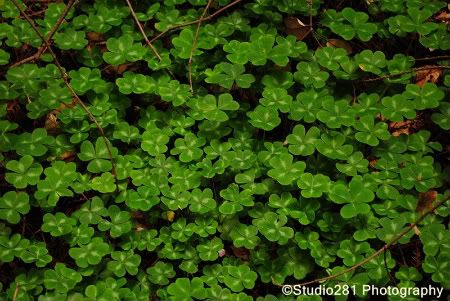 The next day, I learned how to use the Bay Area's transit and streetcar system and got myself (in the sad, steady rain) to Aquarium of the Bay at Pier 39 in San Francisco. What's the big attraction there, you ask? Hmm, not the touch pools...not the sharks....no, it's --
The jellies.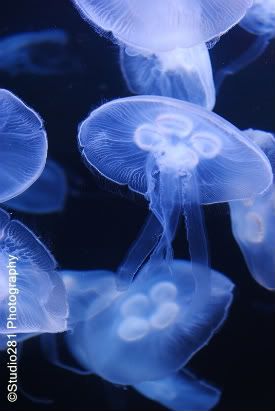 They are truly some of the most fascinating creatures in the entire ocean; I also think anemones are fascinating and of course there are many other strange and confounding creatures in the deep. BUT, just to watch the jellies float and flow, wondering what their purpose is beyond survival and the food chain, it keeps you glued to them for a long time.
The Aquarium has a long tube as well, although it is harder to photograph through its warped glass, so not much to show from that. However, an enormous school of fish - tuna or sardines or something - formed right above me at one point and created the most phenomenal swirling vortex; I got it on video, but it was extremely difficult to photograph. Maybe one day I'll learn how to post a video, because I'm telling you, it was just about a once-in-a-lifetime experience.
Well, I'm here for two more weeks! Which means lots more photos to come. =)